HEY!!! Here's Andy, Jim, and I with Tim Dwight! No Bull!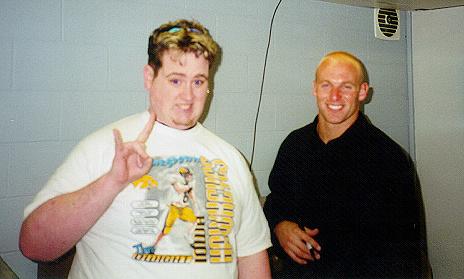 TIM:"Hey guys, call security."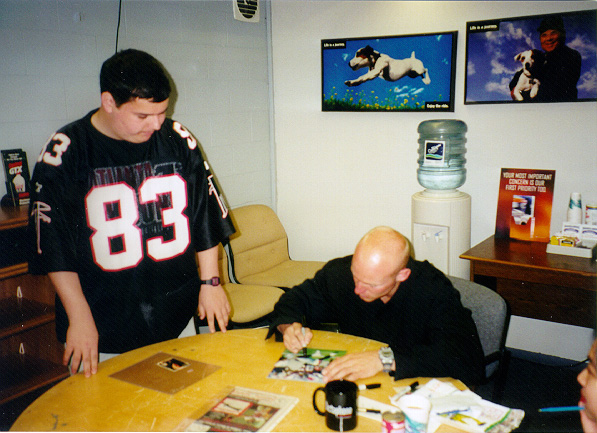 JIM:"Hey, Timmy, who's that chick in the lower right hand corner?"
TIM:"Shut your God Damn mouth, uh...how do you spell Jim?"
NEW TIMMY PICS!!!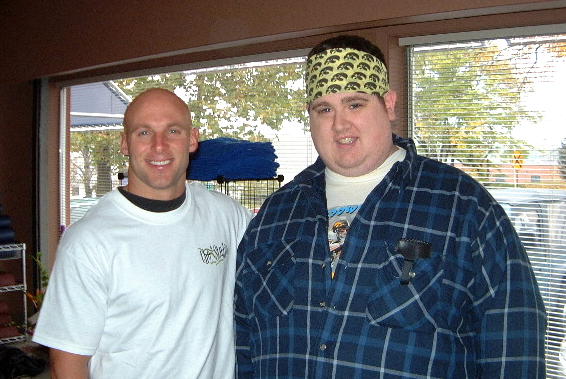 Here is me and Timmy. He is wondering how he could forget to renew his restraining order...LOL!
Tim looks at Andy and wonders..."Am I really shorter than EVERYBODY???"
Recounting of the 2002 Timmy Tale
I decided I would recount of the awesome Saturday in late October of 2002, for not only did we get to see our buddy Timmy Dwight (wide receiver for the San Diego Chargers), but on the same day Iowa also beat Michigan for the first time in years! Now, this all started for me on Wednesday night. I was anxious about the Iowa/Michigan game, so I popped in my tape of Iowa Hawkeye/Tim Dwight highlights that my friend Jim had made a few years back. As I was watching it I started saying silly things, half-jokingly to my girlfriend how I wished Timmy could be here to help us beat Michigan. I was joking about how I had to summon the spirit of the mightiest Hawkeye of them all to help us conquer our ancient enemy (namely, the Michigan Wolverines). Not much more was said of it that night. The next day I was listening to the radio, and they said they were going to have an interview with Tim Dwight on air tomorrow (Friday). I was like, "Cool!", and tuned in Friday. As I listened in Friday, Timmy said he was in town to promote the opening of his new gym/holistic fitness area/yoga place and that he would be signing autographs from 10-12. I freaked out!!! Timmy had actually come to Iowa City! LOL!!! I knew for sure Iowa would win. So, needless to say, we went Saturday to get some autographs. It was a great little football fan experience. My brother Andy and I actually showed up about a half an hour early. Timmy was just hanging out and came over to us. We asked if we were to early to get autographs and he said "Aw, heck no!" He signed some of my football cards, and then started telling us about the Raiders and the Kansas City Chiefs. He was saying how it felt good to get revenge on the Chiefs (he scored two touchdowns on their candy asses) for taking him out last season with a punctured lung. Then he showed us around the gym and shot the breeze for a while. It was SSSSSOOOOOO cool. :) Then, later that day, Iowa had a decisive victory over Michigan, giving the Wolverines their worst home loss since 1967. BOO YA!!!
OK, let's get outta here